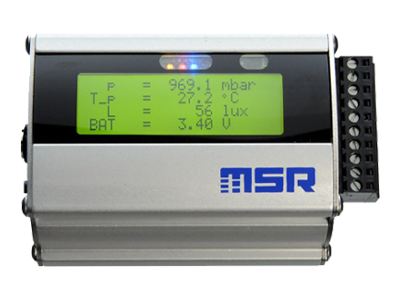 With up to five different sensors, four additional analogue inputs and an easy to read LCD screen the compact MSR255 offers maximum possible flexibility and user-friendliness.
5 sensors, 4 analogue inputs
The measuring tasks undertaken by the user define the way in which the MSR255 is configured: There is a choice of temperature, humidity, air pressure and light sensors (fitted internally within the case or externally on a cable) together with a sensor for measuring acceleration in all three co-ordinate axes. Acceleration values can be measured at 3200 Hz and saved at a frequency of approx. 50 Hz following digital filtration. In addition, the voltage of four further external analogue channels or sensors can also be recorded. The analogue inputs feature an alarm output, multiple output switching power supply and an input for starting and stopping data recording.
The memory capacity of the MSR255 is over 2 million measurement parameters. Thanks to its high-capacity lithium polymer battery the data logger is ideal for long-term data acquisition applications. The 4-row backlit LCD display has four individually configurable views. All acquired data can be quickly transferred to a PC or laptop via the USB interface.
Subscribe to Our Newsletter to get Important News, Amazing Offers & Inside Scoops: