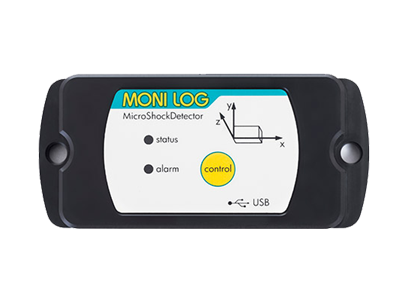 Compact design an high sensitivity: for such applications as, superconducting magnets in medical equipment requiring secure, veriable protection in case of transport and storage damage. The limit value monitoring function of the MONI LOG® MicroShockDetector replaces the more costly, high-end data loggers without compromising measurement data.
Smaller than a smartphone, this micro-measuring device weighs only 180 grams. It reliably stores all shock data in 3 axes, sets the data collected into acceleration classes, supplies curve-plots and activates an alarm as soon as limit-values are exceeded while continuously monitoring temperature.
The switch-on time of the MONI LOG® MicroShockDetector are simple to configure. Using the USB port, all data can be read, configured and evaluated on a PC.
The device can be mounted and removed quickly by means of an adhesive pad, screws, or a set of magnetic adhering feet supplied. On the basis of the good environmental and economical parameters is it also justifiable to use the unit also only once.
Subscribe to Our Newsletter to get Important News, Amazing Offers & Inside Scoops: