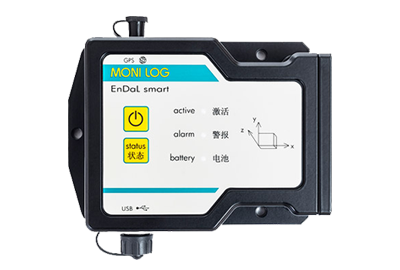 The MONI LOG® EnDaL smart is a compact, universal data logger. It monitors sensitive goods on a long-term basis during trans- port in harsh and critical environments. The advanced sensor technology records shock events, temperature, humidity, air pressure and slope as may be required during the transportation of energy equipment (such as, transformers, generators, switchgear) or sensitive optics, medical or auto- motive components.
The MONI LOG® EnDal smart provides location data for events, as well as, time stamps. Thus, routes can be tracked and critical transport procedures localized accurately. Up to 10,000 recorded position data points can be imported into Google Earth© (or other similar program) and thus evaluated. The device is self-powered, and can be mounted simply. The housing (IP 67) protects against dust and water splash.
The MONILOG EnDaL smart is an almost 'reliable escort' for goods in freight, at depots, and at reloading docks, or during global transport by road, rail, water and air. The device uses standard, replaceable alkaline or lithium batteries as its power supply. Minimum power consumption allows for reliable, long-duration, maintenance- free operating time. In very harsh environments and with energyoptimized operating adjustments, the runtime is one year.
With the license-free PC software, the MONI LOG® analyzer is easy to set-up and operate. Its functions can be optimized to customized measurement requirements for simple to read tables and diagrams, and easy to evaluate and export to other programs (e.g. Microsoft Excel). In addition, all recorded data can be viewed instantly by the simple push of a button.
Subscribe to Our Newsletter to get Important News, Amazing Offers & Inside Scoops: